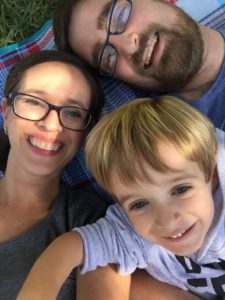 Samuel Lago has served as San Marcos' lead pastor since 2014. Before coming to minister at San Marcos, Sam served on staff at Cristo Mi Pastor Presbyterian Church (Santiago, Chile), Morrison Academy (Taichung, Taiwan), and All Saints Church (Belfast, Northern Ireland).
Sam is a graduate of Diego Portales University ('07) and received his Bth. ('10) from the Anglican Seminary (Center for Pastoral Studies) in Santiago, Chile. He is married to Peggy and they are the proud parents of Benjamin, born January 2015.
Besides serving as pastor for San Marcos and seeking to be a good husband to Peggy, Sam enjoys reading, drawing, going for long walks, watching good movies, and good card / board games.
Ministry Experience:
Pastor of San Marcos International Church (Presbyterian Church in America – Chile). Santiago, Chile. 2014-Present
Pastoral Assistant, Iglesia Presbiteriana Cristo Mi Pastor (Christ My Shepherd Presbyterian Church). Santiago Chile. 2012-2014
Professor of Systematic Theology (Doctrine of Revelation), at the Center for Pastoral Studies, Anglican Diocese of Chile. 2013-Present.
Chaplain's Assistant, Morrison Academy. Taichung, Taiwan. 2011-2012
Pastoral Assistant, All Saints Anglican Church, Belfast, Northern Ireland. 2008