IT WAS A GREAT FUN AND SUCCESS!!
SEE YOU AGAIN NEXT YEAR
ROAR:
  Life is Wild – God is Good!
SAN MARCOS VACATION BIBLE SCHOOL
Save the Dates for ROAR 2020
Targeted ages : 3 – 12 years
Middle School and High School age can be helpers
Adult Volunteers needed to help lead the activities as well as pre-organization/decorations
Make San Marcos VBS ROAR 2020
your "mane" event during your summer vacation!
When: Monday, February 3, 2020 – Friday, February 7, 2020 (English Program)
February 8, 2020 (Spanish Highlights Program)
Where: IV Centenario 507, Las Condes
At Roar! Life is Wild – God is Good Vacation Bible School kids explore God's goodness and celebrate a ferocious faith that powers them through this wild life.
                  Every station is designed to reinforce the daily Bible Point in a hands-on, interactive way that keeps everyone engaged.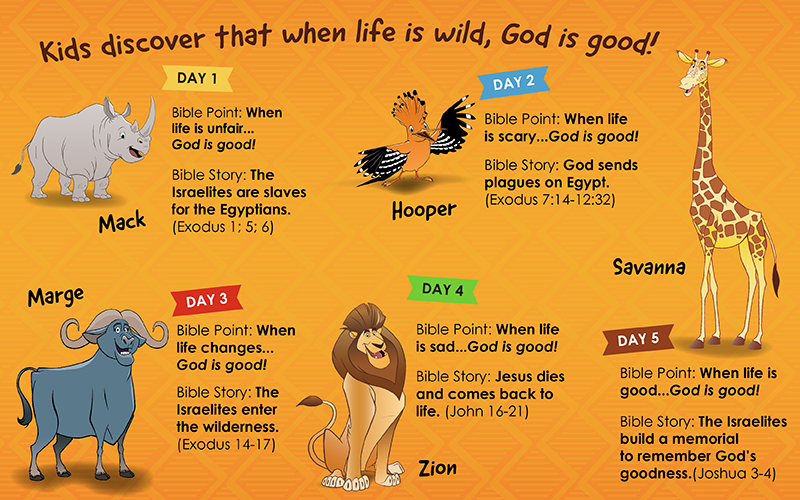 Registration for participants and volunteer staff available online at:
http://sanmarcoschurch.cl/vbs/ Email contact: vbs.sanmarcos@gmail.com
A donation of 15 mil per child is requested to help offset costs for VBS materials
…family discounts and scholarships are available upon request!
Staff Registration Form

Student Registration Form – FULL!!!

Alumnos Sábado Español

Week at a Glance

Rotation of Stations
Additional questions, contact us via email:  vbs.sanmarcos@gmail.com